N-2B Nylon Jacket
PRODUCT DESCRIPTION
The Valley Apparel N-2B Jacket is a classic that is made to withstand wind, rain, and snow while keeping you warm and safe inside. Truly a functional short waisted jacket, featuring our water repellent Military grade Flight Nylon to keep you dry, with our high quality polyester interlining to keep your body warm. The unique design of the pass-through front pockets (originally designed for Air Crew serving in extreme cold) insure that your hands will always stay warm and the faux fur lined hood will be there to protect your face and ears from any cold environment.
SPECIFICATIONS
Hood lined with synthetic mouton fur and trimmed with synthetic coyote fur
Water repellent Military grade Nylon Flight Satin Outer shell
100% Nylon Flight lining and polyester interlining
Knit waistband and cuffs
Hood can be unzipped to lie flat against shoulders
Signature Zippered utility/pencil pocket
Full length storm flap
Raglan sleeves
Imported
AVAILABLE COLORS
Black
Sage Green
Replica Blue



Please inquire for other colors and special orders.
PRODUCT INFORMATION SHEET
View or download this print-ready PDF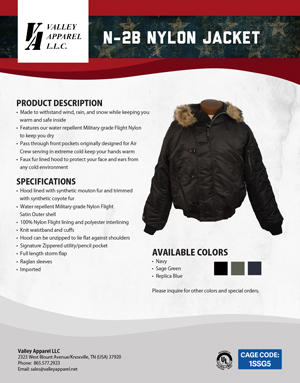 FULL CATALOG
Download a Catalog of all of our products here: