CWU-27/P Flight Suit
PRODUCT DESCRIPTION
This is the Valley Commercial version of the current Authentic Flight Suit worn by the US Army, Navy, Air Force, Marine Corp, Law Enforcement, and Emergency pilots in the USA and around the globe. Each Flight Suit is manufactured to the similar military specification MIL-C-83141A utilizing dyed Aramid Fabric combined with Anti Static Fiber. All threads and trims are all also Aramid and Anti-Static. This flight suit is suitable for the everyday casual pilot as well as any active duty pilot. Each high quality flight suit is made to the highest standard using the best available components to keep any pilot (or any civilian) safe and comfortable.
SPECIFICATIONS
Zipper chest pockets
Zipper thigh pockets
Zipper leg pockets
Zipper sleeve pocket
Knife pocket
Pleated action back
Hook and Loop sleeve tabs
Two-Way front zipper
Imported
AVAILABLE COLORS


Please inquire for other colors and special orders.
PRODUCT INFORMATION SHEET
View or download this print-ready PDF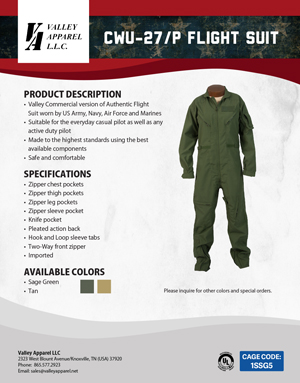 FULL CATALOG
Download a Catalog of all of our products here: