N3B Nylon Parka
PRODUCT DESCRIPTION
For serious wind and cold protection, you need the Valley Apparel N-3B Parka. The N-3B Parka was created and designed for the toughest of conditions. From harsh winds to heavy rains, you will stay warm and dry while looking good getting the job done. The N-3B has its heritage as originally issued to air crews assigned to helicopters, troop transports, and bombers so it is made with the toughest conditions and military assignments in mind. You can rest assured that you are well protected from the elements while still maintaining freedom of movement while you work or play. Our Military grade flight Nylon is water repellent to keep you dry, while the nylon lining and interlining keeps warmth close to your body.
SPECIFICATIONS
Hood lined with synthetic mouton and trimmed with removable synthetic coyote fur
Water repellent Military grade Nylon Flight Satin Outer shell
100% nylon flight lining and polyester batting interlining
Elbow reinforcement patches
Inset knitted cuffs
Adjustable hood with take-up strap and tunneled drawstrings
Signature Zippered utility/pencil pocket
Full length storm flap
Raglan Sleeves
Available in US-made and Imported versions
AVAILABLE COLORS
Black
Sage Green
Replica Blue



Please inquire for other colors and special orders.
PRODUCT INFORMATION SHEET
View or download this print-ready PDF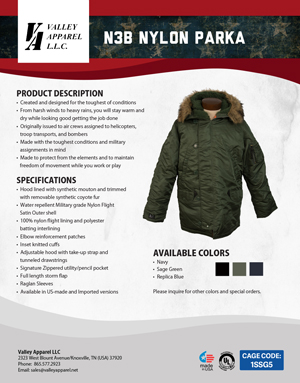 FULL CATALOG
Download a Catalog of all of our products here: