MA-1 Nylon Flight Jacket
PRODUCT DESCRIPTION
Often imitated but there is nothing like the original and classic Nylon flight jacket made for the military for over 40 years.
Worn by various armed forces and originally adopted by the U.S. Air Force in 1950, this iconic and classic nylon jacket has protected pilots from the cold, the wind and the rain with true attention to detail. The Valley MA-1 is made of the highest quality materials and workmanship that you would expect from a true supplier to the US Military.
This workhorse is made for use in cold weather climates (20 degrees F and above) with its famous reversible side to high-visibility Indian Orange that was originally designed for use in emergencies.
SPECIFICATIONS
Front closure storm flap
Knit collar, waistband and cuffs
Signature Zippered utility/pencil pocket
Double Pull Tab on Heavy Duty Zipper
Fully Reversible with rescue orange inner shell
57 separate sewing operations go into making the MA-1
Water repellent Military grade Nylon Flight Satin Outer shell
100% nylon flight lining and polyester batting interlining
Available in US-made and Imported versions
AVAILABLE COLORS
Black
Sage Green
Replica Blue



Please inquire for other colors and special orders.
PRODUCT INFORMATION SHEET
View or download this print-ready PDF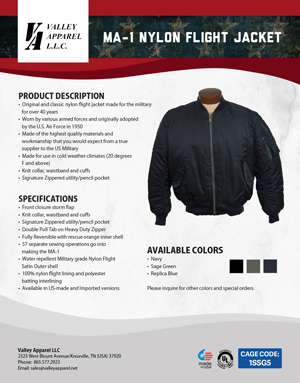 FULL CATALOG
Download a Catalog of all of our products here: