45/P Nylon Flight Jacket
PRODUCT DESCRIPTION
Perfect for pilots, aviation lovers, those who want to look like a pilot and those who just love them. The Valley CWU 45-P Nylon flight jacket is the winter flight jacket style for the US Air Force. The Valley CWU 45-P is made to keep you both warm and dry in any condition with its Military grade nylon and interlining. The front pockets allow for easy storage, with a special flap and hook and loop closure to insure your valuables stay secure as well as protected from the elements. Another special feature is the classic removable badge patch on the front.

SPECIFICATIONS
Water repellent Military grade Nylon Flight Satin Outer shell
100% quilted nylon lining and polyester interlining
Valley removable logo patch
Fully lined, double-stitched front cargo pockets with hook and loop closure
Front zipper closure with storm flap
Knit cuffs and waistband
· Available in US-made and Imported versions
AVAILABLE COLORS
Black
Sage Green
Replica Blue



Please inquire for other colors and special orders.
PRODUCT INFORMATION SHEET
View or download this print-ready PDF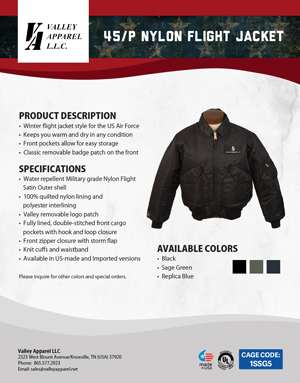 FULL CATALOG
Download a Catalog of all of our products here: